M.S. Thesis project for Kristian Macias, M.S. Candidate in Geology
This project used ground penetrating radar, electrical resistivity, and refraction microtremor seismic (ReMi) to map a fault inferred to lie under our nation's capital on published USGS maps.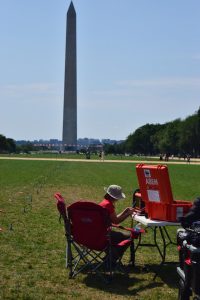 ---
Calibrating Subsurface Interpretations of Airborne Electromagnetic Data for the Mississippi Valley in Northeastern Arkansas using Multi-proxy data from Continuous Cores and Optically Stimulated Luminescence Dating
M.S. Thesis project for Jodi Messick, M.S. Candidate in Geology

---
Examination of Heavy Minerals in Sands of North Mississippi
This ongoing study seeks to characterize heavy mineral concentrations in Upper Cretaceous through Lower Eocene sand deposits in Mississippi. Report and data will be posted soon.
---
Geochemical and XRD Analysis of an Anomalous Clay in the Upland Gravel Complex of Crowley's Ridge: Weathered Tephra, Glacial Slackwater Lake, or a Local Catchment Deposit?
M.S. Thesis project for Trevor Dempsey, M.S. Candidate in Geology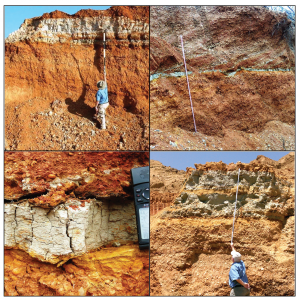 ---
Validation and Verification of Geophysical Methods for Reserve Estimations in Clay Mining, Blue Mountain, Mississippi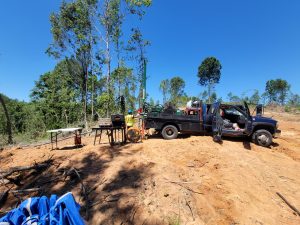 ---
An Analysis of Reservoir Properties and Controls in the Late Jurassic-Early Cretaceous Cotton Valley Group of Jones County, Mississippi
 Dissertation  project for Brightin Blanton, Ph.D. Candidate in Geology
By analyzing core samples and thin sections produced from the Cotton Valley Group in Jones County, Mississippi, MMRI hopes to improve understanding of reservoir quality, depositional environments, sedimentary facies, and pore scale processes associated with this unit. The Cotton Valley is a widespread formation deposited during the Late Jurassic to Early Cretaceous, and is considered a significant hydrocarbon play across much of the Gulf Coast region. Recent interest has also focused on the potential for repurposing deep, abandoned oil and gas wells for geothermal energy production. MMRI intends to further investigate the geothermal properties of the Cotton Valley Group, in order to develop a holistic assessment of the hydrocarbon reservoir quality and geothermal energy potential of the Cotton Valley in south Mississippi.
Petrographic thin sections from the Cotton Valley Group.
Visit the profile page of Dr. Counts for additional projects that need graduate students